Southeast Cabin Rentals is a free service for people looking to find that perfect Southeast Cabin Rental. Our rental directory covers the (9) states in the southeast and has everything from log cabins to lakefront, riverfront, mountainside to mountainview , finding the right vacation rentals means you'll have that vacation you deserve!
Our listings are placed here by owners and real estate agents and Southeast Cabin Rentals can in no way be held responsible for any of the information listed herein. This is a "FREE" site put here for your use and paid for by our sponsors, so please visit some of them and lets keep it free.
Rental Owners and Real Estate Companies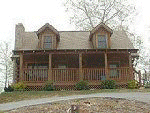 Take advantage of our listing service, this is a top ten site in the search engines and linked to hundreds of other top ten sites.
Simply Click Here to register and start placing your listings.
We offer you this opportunity for free and charge a smal fee if you want your listings "featured". If you purchase front page advertising with us you may even have "featured" listings for free. If you have any questions , please feel free to contact us.
This site is owned by Bobarosa Top Ten Advertising, which has advertising spots available on over 20 top ten websites, front page only. Our websites are geared to attract people that are interested in vacationing in the southeast. Visit our website to learn more
Click Here to Visit
Why Choose Southeast Cabin Rentals.com
Renters: There is nothing to join, simply click on the location of your desired Vacation Rentals. Contact the Vacation Rental property owners directly or make them an offer, regarding availability and booking. Property owner contact information is provided on each listing.
For Vacation Rental Owners & Real Estate Agents
To list your properties on Southeastholidayrentals.com you have to register first.
Then you can log in and put all of your listings online from your user area. Regular listings are "FREE" .If you want your listing featured the cost is $15.00 for (6) Months or $25.00 for (1) year.
Standard advertising on Southeastcabinrentals.com is FREE*
.
- *No Rental Commissions
- *No Referral Fees
- *No Sales Commissions
- *No Hidden Costs
- *No Annual Fees
-
*No Risk
* Check out our front page banner advertising program and advertise on over (20) Top Ten Websites* .......Read More
.